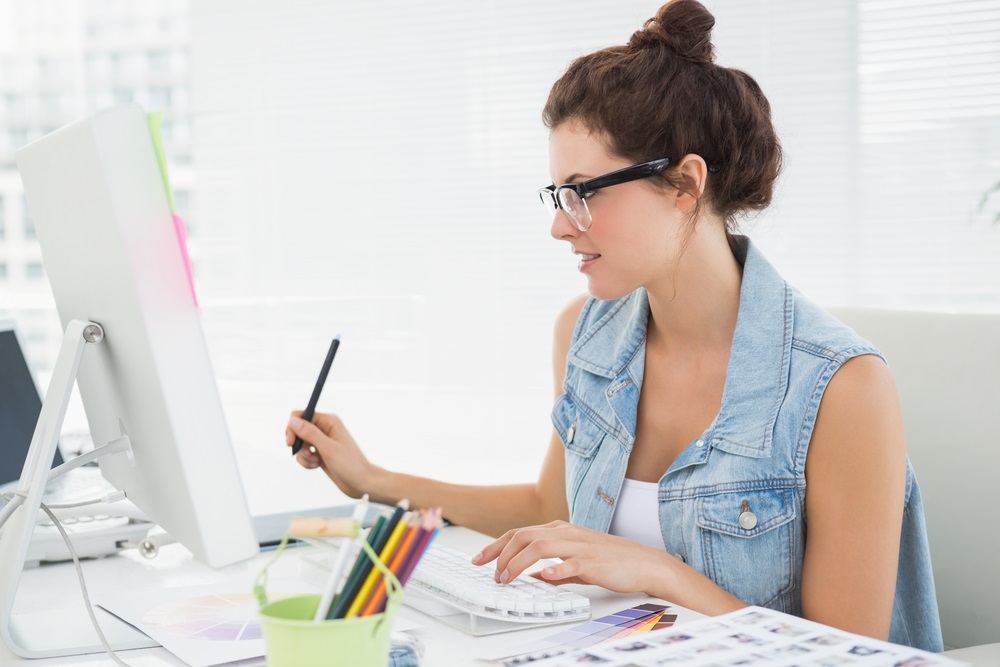 To date, there are 1.1 billion freelancers worldwide. Apart from offering more flexibility, becoming a freelancer means choosing the projects you take on. What's more, statistics reveal that professional freelancers can make up to £30,022/year. 
While being a freelancer is one of the most convenient ways to make money online, many people are still unsure about how to start their freelancing careers. This might be due to freelancing fears or confusion about how to advertise their services.
To get you started, this article reviews the top freelancer sites to help your business in 2022. We hope to help you find a perfect platform to get freelance work and promote your services, whether it's graphic design, human resources, or content writing. 
1. Fiverr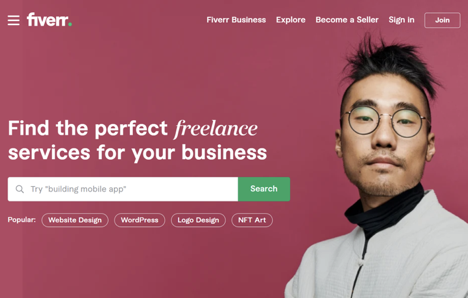 Fiverr, with approximately 3.42 million active buyers, is one of the biggest, most popular freelance websites. Whether you're a freelance graphic designer, programmer, or digital marketer, this freelance website will help you find freelancing jobs easily. 
On Fiverr, business owners (buyers)can hire freelancers (sellers)and use their services (gigs). The flow is quite simple:
Freelancers create their Fiverr seller profiles.
Sellers showcase their skills in detail to attract potential clients.
Buyers find the gigs and place their orders.
Fiverr will charge buyers and put the money on hold.
Once an order is complete, the freelance site will transfer the fee to the seller's bank account.
| | |
| --- | --- |
| Types of freelancing services | Web development. Website design. Logo design. NFT art. Digital marketing.  |
| Pros | Best for entry-level freelancers. Secure communication channels. Flexibility for setting up gigs and pricing. |
| Cons | High commission charge (20% of each transaction). |
2. Upwork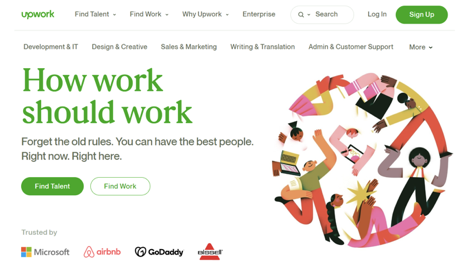 Upwork is among the best freelancing websites for just about any freelance talent. Clients, no matter how big or small, can easily find freelancers to help with various tasks – from software engineers, designers, and writers to accounting experts and legal officers. 
Used by big corporations, including Microsoft and Airbnb, Upwork is an excellent freelancing website offering high-paying freelance jobs. Here's how this freelance website works:
Freelancers sign up for an Upwork account.
Once the registration is complete, freelancers upload their portfolios and list their past experiences to attract clients.
Freelancers can find freelance job opportunities on the job board and apply to ones they're eligible for.
Once the project is complete, freelancers will receive their payment via PayPal, direct deposit, or wire transfer. 
One factor to note before submitting a proposal – be sure to check the job's payment system. On Upwork, freelancers may find fixed-price projects or projects that pay per hour. The latter is based on a weekly billing cycle. 
| | |
| --- | --- |
| Types of freelancing services | Programming. Branding and marketing. Finance and accounting. Writing and translating. Customer support. Legal. Design. |
| Pros | Upwork offers secure payments and has credible clients. |
| Cons | Considerably high service fees for beginners. |
3. 99designs
99designs is one of the go-to freelancing platforms for designers. This website makes it easier for creative freelancers to collaborate with business owners and help with creative tasks. It's a perfect solution if you're a web designer looking for relevant job postings. 
99designs hosts various design projects, including book cover, logo, and merchandise designs. Access 99designs' job board to find freelance jobs and filter by industries, design styles, and categories for more relevant results.
Here's how graphic designers can find jobs on this freelance platform:
Freelance designers create a 99designs profile.
They will then complete the profile information with their work experience.
The curation team will decide the designer level.
Once verified, freelancers can browse through listings and submit a proposal.
Clients review the submissions and proceed with the hiring process.
The chosen freelance designer gets to work on the project.
Once completed, freelancers can request a payout via PayPal or Payoneer. 
| | |
| --- | --- |
| Types of freelancing services | Graphic design. Illustration design. Logo design.  Web design. |
| Pros | 99designs offers a dedicated environment for designer freelance job seekers. |
| Cons | Slightly costly as 99designs charges various fees – introduction, platform, and payment. Only those with higher expertise levels have good visibility on this freelance marketplace.  |
4. Toptal
Toptal is one of the best freelance marketplaces to find technical jobs. It connects freelancers offering software development, project management, and financial services with clients around the globe. 
Toptal, trusted by leading companies like Bridgestone, Duolingo, and Shopify, is arguably the best platform for freelance professionals. It claims that it accepts only the top 3% of the most qualified freelancers. 
Here's a quick overview of how to be a freelance worker on Toptal:
Freelancers apply and wait for the screening process invitation.
They will proceed to a Language and Personality test (only 26.4% of applicants pass).
Next, the Toptal team will conduct an In-Depth Skill Review (only 7.4% of applicants pass).
Applicants will then take a Live Screening test (only 3.6% of applicants pass).
The remaining candidates will be assigned a test project (only 3.2% of applicants pass).
In the final Continued Excellence stage, freelancers must maintain an excellent track record when working with clients (only 3% of applicants pass).
In terms of payment, freelancers will receive an invoice every two weeks. To help ensure on-time payment, freelancers can set an automatic transfer to their bank account. 
| | |
| --- | --- |
| Types of freelancing services | Software development. Project and product management. Financial services. |
| Pros | Integrated invoicing and payments.  The chance to work with big companies if you pass the screening process. |
| Cons | A lengthy registration process (two to five weeks). A rigorous screening process. Limited to big projects only. |
5. Freelancer.com
Freelancer.com is one of the top freelance websites to search for work. On this platform, anyone can promote their skills, from graphic design, search engine optimization (SEO), and finance to mobile app and software development.
Since this platform provides a wide range of freelance work, freelancers don't have to worry about finding suitable jobs. All they have to do is filter the job listings based on several categories – skill, language, latest, and featured. 
Here's the general process for joining Freelancer.com:
Job seekers sign up on the site as a freelancer.
They will then complete their profile with information about their skills, educational background, and work experiences.
Then, freelancers can start bidding or sending proposals for available jobs.
Once hired, they can begin working on the project.
Get paid – be sure to check whether you're assigned a fixed-price or hourly job. 
As one of the biggest freelancer websites, there may be scammers on this platform. So, we recommend only choosing verified clients. 
| | |
| --- | --- |
| Types of freelancing services | Web, mobile app, and software development. Writing and translation. Digital marketing. Graphic design. Finance and legal. |
| Pros | 24/7 customer support through live chat. An integrated progress tracker. |
| Cons | Some risk of fake clients.  |
Conclusion
Throughout this article, we've covered five top freelance sites to help you thrive in 2022. Most of them only require you to sign up for an account and build a profile to start landing jobs. However, you need to consider other factors such as the project size, payment system, and platform fees.
Here's a short recap of the top five freelance websites to find work:
Fiverr – the best freelance website to begin a freelancing journey in website development, NFT art, logo, and web design. 
Upwork – one of the best freelance websites for any talent, including freelance writers, programmers, financial advisors, and designers.
99designs – best for creative professionals to find freelance design jobs.
Toptal – among the best freelancing sites for software developers, financial consultants, and product managers involving a strict screening process.
Freelancer.com – one of the best freelance websites for various projects.
Don't hesitate to share your experiences using the above platforms in the comments below. Good luck on your freelancing journey!